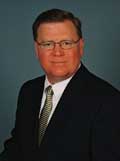 Philip C. Olsen – Partner

Mr. Olsen has had a long and distinguished career in the water treatment industry. Today, he is widely recognized as a leading water technology consultant, lecturer, and author.

Mr. Olsen, a 1980 graduate of the University of Minnesota, served as General Manager for a leading water treatment equipment manufacturer and is the founder of several water consulting organizations, including Cartwright, Olsen and Associates and Midwest Water Engineering, firms that have helped clients around the world in environmental performance verification programs, technology development, market research and business planning.

He has served as the principle investigator for numerous technical studies, technology/product development initiatives, and performance verification studies for both private and public (regulatory) sectors. He has authored numerous papers that have served to advance the industry's knowledge of fluid separation, filtration, disinfection, and chemical adsorption processes. Technologies of primary expertise include: Membrane separation (RO, NF, UF, MF), Ozone and UV disinfection, and Adsorption/Filtration technologies. He holds several patent claims in the area of ozonation and water filtration system design.

Mr. Olsen has served as President and Regent for the Minnesota Water Quality Association and is a member of the International Ozone Association, American Water Works Association, Rural Water Association, Groundwater Association, and the International Water Quality Association where he has chaired their Educational Services, and Ozone Technology Committees and has served on their Professional Certification Committee, Science Advisory Board, and Board of Regents.

Mr. Olsen has published numerous technical papers, co-authored several book chapters and is an often sought after lecturer. He also serves as an expert advisor to the United States Environmental Protection Agency and is the recipient of the Award of Merit from both the Minnesota and International Water Quality Associations for his leadership, and contributions toward the advancement of the water quality improvement industry.